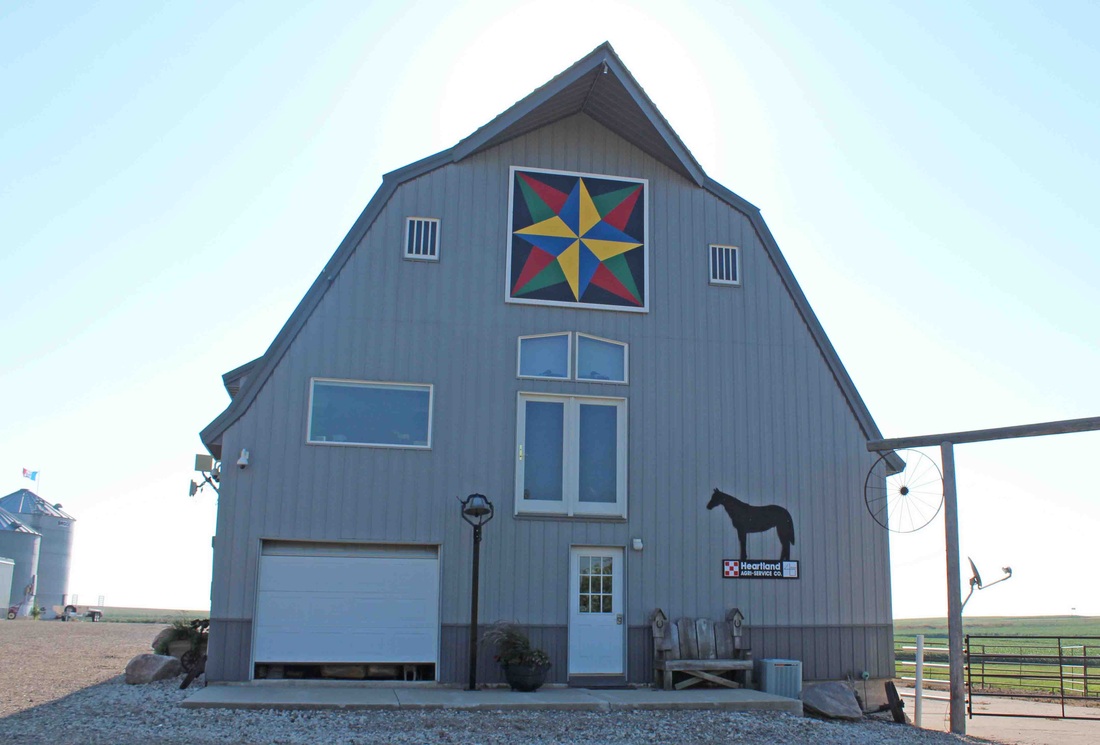 Many of the barns in Sac County Iowa are decorated with different quilt tile patterns like this one off US Route 20
Just when you think the farmlands filled with corn, soy beans, alfalfa and hay are getting repetitive, the terrain will suddenly change from flat and straight to rolling hills with great vistas. And then some counties, like Sac County in Iowa, have barns decorated with tiled quilt patterns like the one in the photo above which was right alongside U.S. Route 20.
This morning I was also able to cross the Missouri River into Nebraska at Sioux City in time to attend communion service at the 1st Lutheran Church right off US Route 20. Although the Nebraska "cornhuskers" terrain continued similar to Iowa, the further west and north field crops suddenly changed to thousands upon thousands of cut, rolled and wrapped hay bales and instead of farm names there were ranch names with herds of angus steers grazing in pastures. There were also groups of motorcycles traveling east and west. I later learned when I stopped for the day in Valentine, NE, they bikers were coming from or heading to the South Dakota Black Hills and Sturgis, despite the annual bike week being held two weeks earlier. The Black Hills and Sturgis must be on all bikers bucket lists.
The drive along Route 20 into Valentine brought another surprise, all the hills and fields were filled with yellow flowers. They looked like bachelor buttons to me but I later learned they were wild sunflowers, much smaller that the giants we are used to seeing, and this year weather conditions were perfect for an unusual abundance that both cattle and birds will benefit from.
This is cowboy country. There is no soccer or lacrosse field in Valentine but there is an outdoor rodeo stadium and my baseball cap, Mass Cruisers Cruise tee shirt and comfy walking shoes looked out of place with 10 gallon straw hats and boots with spurs, although Cabella camo caps, shirts and hunting boots are acceptable. I also had the best prime rib ever for dinner. It was from local beef and the dinner was priced under $20. Another good day and 380 miles logged in.