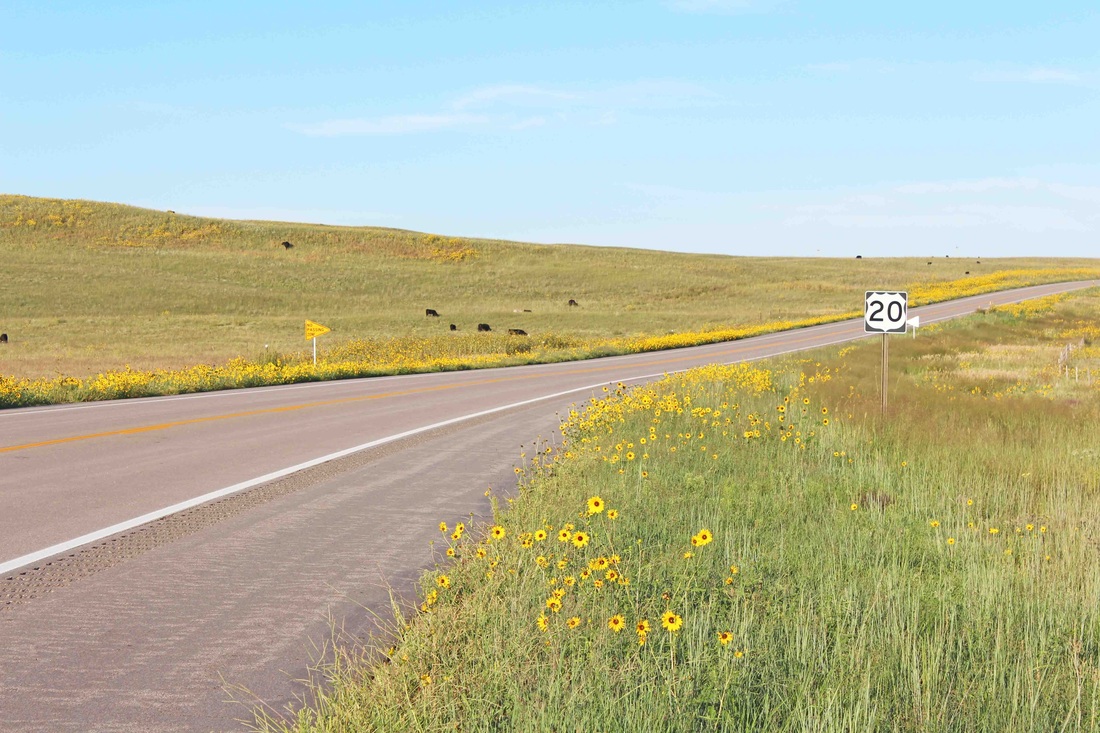 Wild yellow Sunflowers were in full bloom in the the Nebraska Sand Hill country. Where cattle graze (the dark dots in the distance) sunflowers become their lunch.
Driving west through the sand hill country of northwest Nebraska was unbelievably beautiful this morning with wild sunflowers in full bloom facing the sun which was to my back. Route 20 cut a path through more than a hundred miles of brilliant yellow carpeting on both sides of the road, bringing to mind the Yellow Brick road. Where the angus cattle grazed, the yellow was all but gone as the wild sunflowers are one of their favorite forages in late August. This year there was an abundance of flowers due to the weather conditions being right.
I took a side trip into South Dakota today to visit Mount Rushmore and the extra 150 miles was worth the ride through the Black Hills,
Then it was back out to Route 20 and on to Casper Wyoming. The transition from Nebraska's rich farm and ranching terrain to Wyoming's sparse prairie ranches is dramatic. But, off in the distance from Lusk, WY the Grand Tetons and Yellowstone Park mountains are visible on the horizon throughout the drive to Casper. And, when you reach the Platte River, oil well pumps start dotting the landscape much as the windmill pumps were sentinels on the vast Nebraska landscapes.