I stopped at the Cline Cellars Vineyard in Sonoma on my way to San Francisco and purchased a bottle of their 2012 Cashmere White to compliment the Lesse-Fitch Cabernet Sauvignon I bought yesterday. I don't know anything about wines but I buy them not to drink, I don't usually except for yesterday, but to give as gifts. After crossing the Golden Gate Bridge and driving the famous brick serpentine 8 turn downhill Lombard Street, my GPS touch screen froze and stopped working. I have come to depend on it for setting daily E.T.A. destinations, hotels and directions which complimented the 14 sets of AAA maps that gave me the big picture so I cut San Francisco short to find a Best Buy which I found in San Carlo off U.S. Route 101. After their tech got the screen unfrozen I programmed the GPS to Half Moon Bay on the CA Rte. 1 coastline, back in the element I've enjoyed most of all, driving that beautiful coastline road with more twists and turns than the hills in San Francisco could provide.
One of the many stops I made to take pictures was the Pigeon Point Lighthouse which I learned is also tied with the Point Arena Lighthouse for the tallest on the Pacific coast although built in the more traditional New England style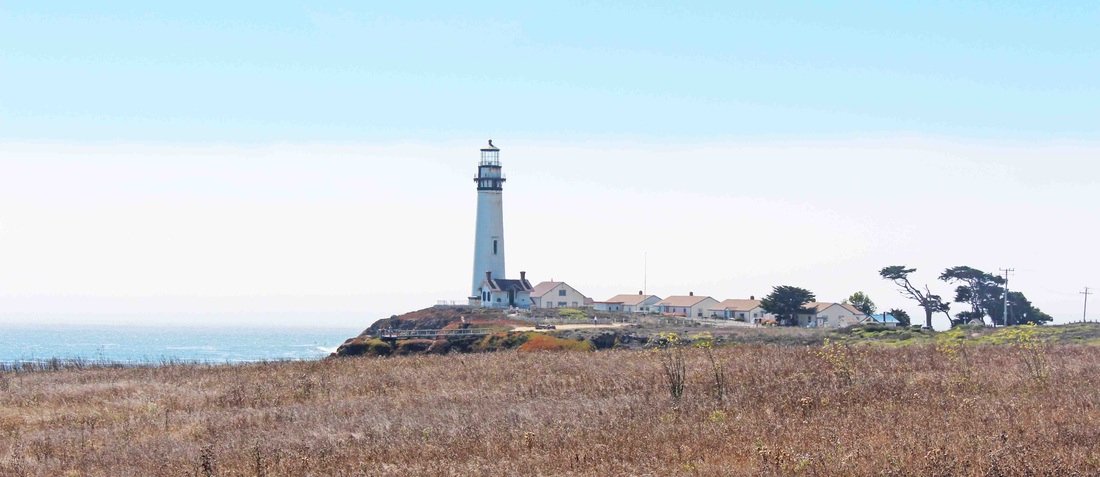 The Pigeon Point Lighthouse built in 1871 is tied with the Point Arena Lighthouse at 115 ft. high for the tallest Pacific coast lighthouses in the United States.
U.S. Route 101 passes through Santa Cruiz and Salinas, John Stenbeck's birthplace, an agricultural center with fields of artichokes being worked on by large numbers of field workers that I assume to be migrant. When I dialed in the local AM & FM radio stations all but one or two were Hispanic. I mention John Steinbeck because it was his 1962 book "Travels with Charlie" that inspired me to undertake this CRUIZ across America and the Monterey peninsula during the depression was his home. That's when my GPS screen froze again and, when I spotted a Staples store off the highway, I turned around and landed at the ocean front Best Western Beach Resort on Monterey Bay. The sound of pounding surf will be great to fall asleep to. My GPS problem, I now believe, is caused by overheating, sitting in the sun on the truck's dashboard because, after checking in at the hotel and driving over to the Staples store, the GPS was working again. It will now sit on the console out of the sun. Speaking of sun, here's tonight's sunset outside my hotel room over Monterey Bay.