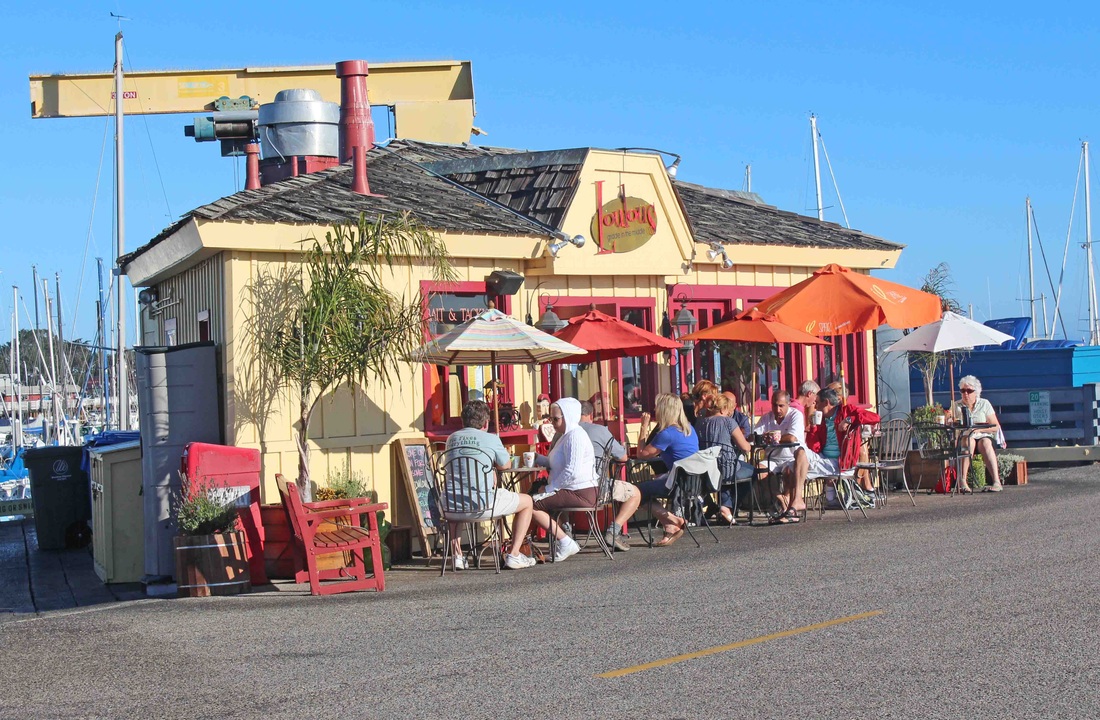 A great start to any morning in Monterey is breakfast at Lou Lou's Griddle in the Middle diner on Fisherman's Wharf.
A beautiful start to my morning in Monterrey was enjoying a Seafood Reef Rider Omelet with home fries, English muffins and coffee and learning about some of the area history from a retired local builder sitting on the stool next to me. I had to drive through Cannery Row. John Steinbeck wouldn't believe those old sardine canning factories could be transformed into Monterey's premier destination for luxury hotels, shopping, restaurants and night life. Next was a quick tour of the neighboring quaint Carmel-by-the Sea dog friendly community that has numerous winery tasting rooms in its center.
Off to some more serious driving to Big Sur on the Pacific Coast highway promising 72 more miles of breathtaking vistas and hair raising cliffside tight turns and hairpins. Although the Big Sur coastline gets all the press, there seemed to me just as many and varied and exciting drives in both the Oregon and Redwood forested drives along the Pacific Coast Highway and I couldn't honestly say one was better than the other. They were all spectacular and prized natural treasures to be preserved for future generations.
I also stopped at the Hearst Castle in San Simeon a little after noon intending to take the tour of the castle that sits atop a 1,600 ft. high hill, but found the next available schedule tour group was for 1:30 pm, it's a 1 1/2 hour tour and I had an appointment for a private museum tour in Buellton, 67 miles south on U.S. 101 at 3:30 PM] a story for a future Mass Cruisers newsletter. I put up for the night at the Split Pea Andersen's Inn in Buellton. The Andersen family invented split pea soup back in 1924 which put Buellton literally on the U.S. Route 101 map as the original alignment ran right through the center of town. It is now a magnet for dry lakes drag racing icons with their annual hall of fame inductions being held at the Mendenhall's Museum of Gasoline Pumps & Petroliana. Also, being in the center of the Santa Ynez Valley vineyard region, the Terravant Wine Company provides bulk wine making services to smaller vineyards and boutique vintners private labels from all of California's wine regions and their Avant Tapas and Wine located upstairs above the wine manufacturing floor gives you what they call a neoclassic industrial experience in wine tasting. What ever that means it was a pretty cool looking setup so I bought a bottle of "Spin the Top" 2011 Cabernet Sauvignon, not because I tasted it, I didn't, but because it had this neat label where the bottle picture spins when you spin the bottle.