This Nevada Sacramento Pass ranch entrance and fence where the donkey is standing is made entirely with elk antlers. click on the photo to enlarge it.
It rained overnight, the first rain in the almost three weeks of this CRUIZ, but it cleared at least for the first hour of driving out of Ely, NV heading to Great Basin National Park off Route 6 in Baker, NV. By the time I got to the Park visitor center it started to rain lightly. I was hoping the see the Bristlecone Pine Tree Grove, and specifically the oldest living tree known at over 5,000 years. When I found out that it required a 2.8 mile hike up to an elevation of 9,000 from the nearest road at over 7,000 ft., I settled for looking at an accurate reproduction in the center's lobby. It was so realistic looking it fooled me. The other option was to take a one hour tour of the Lehman Caves, but when I went outside and the rain started to get heavier, I decided to settle for stopping at the Baker Archeological Site of the Fremont culture Indian village dating back to 1220-1295. The original 12 building platform structures have been reburied to preserve them and picnic pavilion with information about the site is posted there. And we get all excited about the Pilgrims first landing in Provincetown not far from U.S. Route 6 in 1620. Here's a much older habitation site within a mile of U.S. Route 6 that was flourishing in what today is considered a harsh environment.
From Baker I crossed the Utah border and lost an hour of travel time, now MST and not PST. The rain stopped long enough for a panorama picture of the Skull Rock Pass descent at 5,675 ft. with its 8% grade; then more rain, heavier this time with lightening. You cab see these rain fronts coming from miles away.
It cleared again as I drove through the former mining town of Eureka which appears to be resurrecting it's original 1800's U.S. Route 6 Main Street into a viable living museum. Some of the abandoned old buildings are now occupied with businesses, most notably coming from the west, the HWY 6 DELI, which had a large sign on the sidewalk, caught my attention so I stopped and gave them our 2012 and 2013 U.S. Route 6 Provincetown Cruise dash plaques to put on their refrigerator. I snapped several pictures of the Tintic Mining Museum, the relocated 1865 Orin Porter Rockwell Cabin and the large mine head frame at the edge of town. Rumor also has it that someone is mining again on the other side of the mountain.
The storm clouds were moving in on Eureka so I made a mad dash to Spanish Fork to find a hotel. Too late; I was soon driving through the worse torrential rains and heavy fog I ever experienced. (later weather reports that the flash flood had 3/4 inch of rain in 15 minutes) The temperature dropped 20 degrees resulting in fog combined with torrential downpours and heavy lightening strikes making visibility almost impossible. I got onto the Route 6/I-15 connector to Provo and it got worse with road flooding and several cars were off the highway and down the embankment. I pulled off at Spanish Fork to the nearest motel only to find all the businesses were without power, so I programmed my GPS for the Provo LaQuinta and fortunately they had power and I was able to get a room despite the heavy booking for the rain delayed Texas - BYU game being played down the road. It was a hair raising drive today and who would have thought the high Basin desert would get such torrential rains.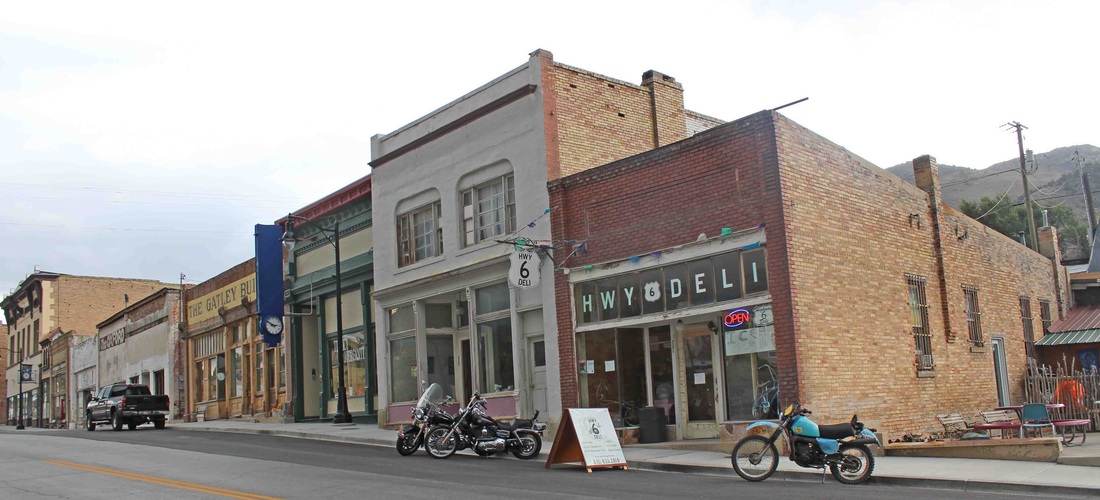 The Eureka Utah HWY 6 DELI sign out front caught my eye and I stopped and discovered this U.S. Route 6 former mining town is transforming into a living museum with several businesses occupying some of the buildings which date back to its heyday.