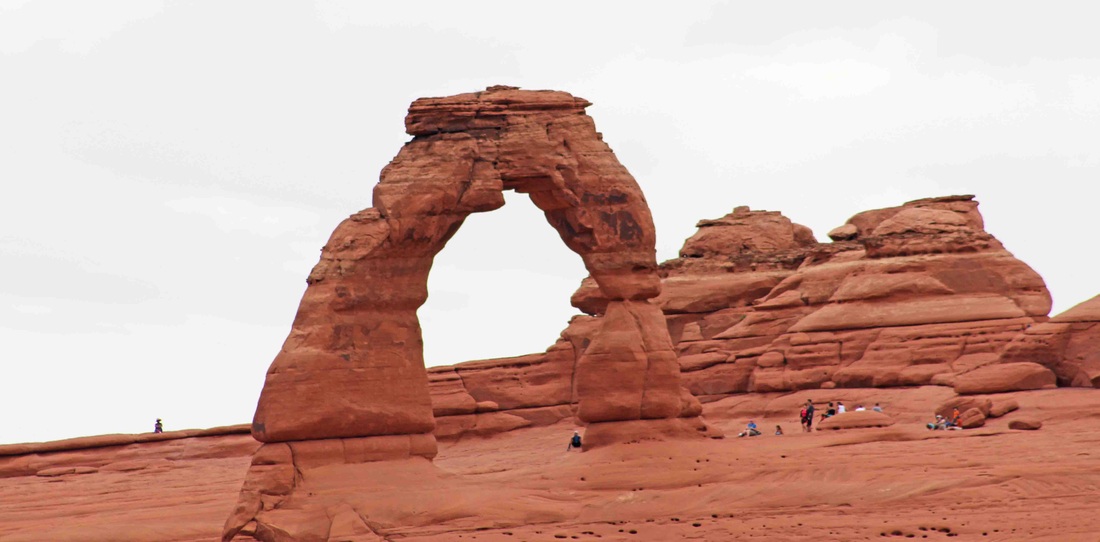 There are two ways to get a close up picture of Arches National Park's famous Delicate Arch; one is a strenuous hike 1.5 miles of 2-3 hours up to its 4,800 foot butte from the Wolfe Ranch, as the tourists in this photo did, or a moderately strenuous 0.5 mile hike (if you are younger) up a ledge trail from the end of the road to get a peek from across a steep canyon and you need a 300 mm camera lens to get this shot. I was bushed.
I left Provo, UT early enough to make a U.S. Route 6 side trip of to both the Canyon Lands and Arches National Parks in Moab, UT. There were still some lingering showers on the drive along the route but the weather stayed away when I needed to get out and hike to see some of the most striking and beautiful rock formations in these two parks. I did not go all the way through the Canyon Lands Park, just far enough in to see and photograph their Monitor & Merrimac Buttes. I wanted to spend more time driving around and hiking through the Arches National Park, specifically to see the Delicate Arch which is the image on Utah's vehicle license plates, as well as the Balanced Rock formation which I've seen photos of since childhood. As it turns out there are a lot more strange and interesting formations to see and photograph and most of the famous photographed ones, including the Delicate Arch, require some strenuous hiking in 80+ degree heat while the Balanced Rock formation is close enough to the road to photograph from your car and t is an easy 0.3 mile hike to get up close. When I stopped to take a picture along the Windows Section of the park I scared up a Kangaroo Rat that was in the brush near the road. I wasn't sure what it was that was at first; it looked like a tiny squirrel with a snake like swishing tail. That was the first one I've ever seen and it was so fast, it was just a fleeting glimpse that left me wondering what was that thing?
I was so tired by that time I checked into a LaQuinta Inn early and napped during the first half of the 49's - Packers game. When I left for dinner there was a NO VACANY sign on the door. Moad was filled with tourists like me from all over the country and this was the last weekend of a week long music festival.

The Balanced Rock formation in Canyon Lands Park is close to the road and can easily be reached over a 0.3 mile path.