Council Bluffs, Iowa to Davenport, Iowa
Thelma Nopoulas scooped a nice cone of fresh strawberry ice cream for Wellfleet that hubby George still makes fresh daily at age 93.
I traveled much of the Historic U.S. Route 6 alignment today, from Council Bluffs to Davenport that also includied the remaining 50 mile section of the historic White Pole Road from Adair to Dexter. I missed a section of Historic Route 6 from Atalissa to U.S 61 in Davenport due to a bridge construction project detour that was later corrected when I met Dave Darby, Executive Director of the Iowa U.S. Tourist Association, at my hotel. My post is primarily about a couple of special people that Dave introduced to me in the town of Wilton, George and Thelma Nopoulas, proprietors of the oldest ongoing ice cream parlor in the WORLD, the Wilton Candy Kitchen,. George has also got to be the oldest working soda jerk at age 93, having been doing it for 87 years.
Dave and I got to the Wilton ice cream parlor well after they closed at 5 pm because we stopped at several other spots I had missed earlier to take some photos before dark. As we were taking photos of the store front and I had set up some shots with Wellfleet, our U.S. Route 6 Massachusetts mascot bear, the door opened and Thelma stuck her head out and asked if we wanted to come inside. Well, never to miss an opportunity to meet U.S. Route 6 living legends, we quickly responded YES. George was also inside and greeted us. Thelma gave me the complete verbal history of their store and how George still makes the 2 1/2 gallon batches of ice cream fresh each day. She then offered to make a cone of fresh strawberry ice cream for Wellfleet so I could take a picture inside the store. Because Wellfleet doesn't talk yet, I can verify the strawberry was absolutely delicious. As we were ready to leave, Thelma offered to turn on the neon signs so we could take pictures while the sun was setting. I have to say, this was one of the best experiences on the four weeks of CRUIZN the U.S.A. and, making even a short segment of this historic Route 6 with Dave, was both informative and enjoyable, particularly after driving over 7,000 miles without talking to someone riding shotgun. Dave has also been single handedly getting Historic Iowa Route 6 signs posted to help touring road adventurers like myself find their way along all the historic alignments that, over the years, have been replaced with county road designations or comingled with newer Interstate super highways or have been bypassed totally. If only we could paint all the poles white again, harkening back to a time in the early 1900's when the towns had the responsibility of guiding travelers through their communities. Although our long distance drives would take a bit longer they would be more interesting instead boring as they are on today's newer roads.
I also have to mention that when I stopped inside the iconic Mobilgas Candyland Station in Grinnell, there was a coincidental crossing of paths with another couple traveling west on the Historic U.S. Route 6 from Pennsylvania while I was heading East.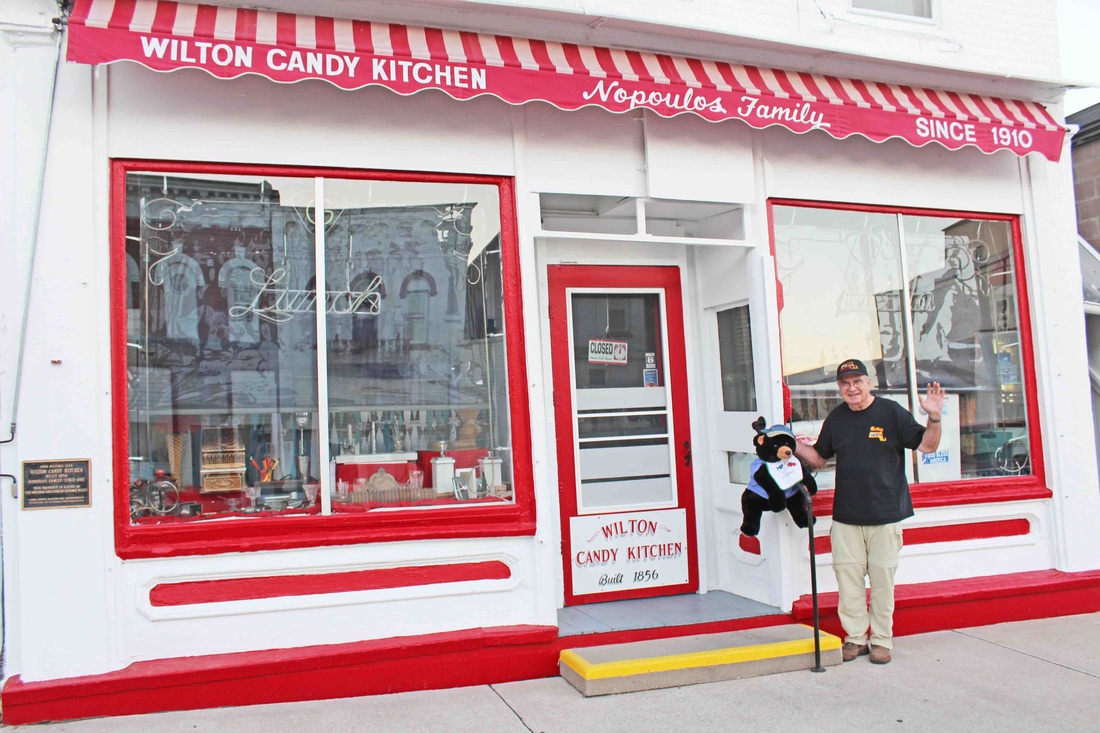 That's me posing with our Massachusetts U.S. Route 6 mascot bear "Wellfleet" in front of the 1860 Wilton (Iowa) Candy Kitchen.