Davenport Iowa to Hammond, Indiana

It ain't the Mississippi but, the Hennepin Canal lift bridge and lock is something you can take your time enjoying. The Hennepin canal connected barge traffic between the Mississippi and Rock River until 1951 when it was closed. It is now maintained as unique park system for camping, picnicking and fishing.
When I did finally get my butt in gear this morning I tried to get close to the Mississippi River before crossing over to Moline Illinois but quickly discovered the Davenport river front is still a working river lined rail and businesses Crossing over the river on the I-84/Rte. 6 bridge only told me when I was in Illinois or Iowa but not that I was crossing over the Mississippi. Of course a strong morning sun was in my eyes heading east and I could have easily missed it.
The U.S. Route 6 landscape in Illinois continues to be agricultural and korn is still king. And unlike the Iowa landscape which had beautiful rolling hill vistas, most of the western Illinois farmland is flat.
My first stop was in Genesea to snap a picture of their RR station and iconic 100 year old Farmers Bank building which had three retirees sitting on the bench outside. We swapped a few yarns and I moved on.
I kept seeing signs every now and then with directions to Hennepin lock #,s. Finally, when I got to lock #21, I pulled into the dirt road and found a very nice camping and picnic area with toilet facilities at a bend in what looked like a small river passing under Route 6. I continued along the road until I came to another larger picnic area with a concrete camping pad and another rest room. Going further a sign warned that trailers were not allowed this direction and I finally came up to canal lock #21. I drove onto the unique lift bridge to cross over the canal lock and took the picture above. This lock's lift bridge is visible from U.S. Route 6 in the town of Wyanet which l also had to stop in and take a picture of this new antique shop's bench and talk with the owner who told me he's fished the Hennepin canal system and has pulled lunkers weighing as much as 50 pounds out of there.
Some random thoughts and things noticed driving through Illinois: people still burn their trash in 55 gallon drums in small town back yards, Route 6 is called the "Illinois River Road", regular unleaded (no 10% ethanol) is always available at the pump but costs 50 cents a gallon more than ethanol added regular - both are 87 octane, Rte. 6 intersects Route 66 in Joliet next to the Will County Correctional facilities, so officially I have driven on Route 66, but not the most nostalgic part.
Route 6 passes south of Chicago, parallel with I-80, so I continued over the state line into Hammond Indiana before settling in for the night.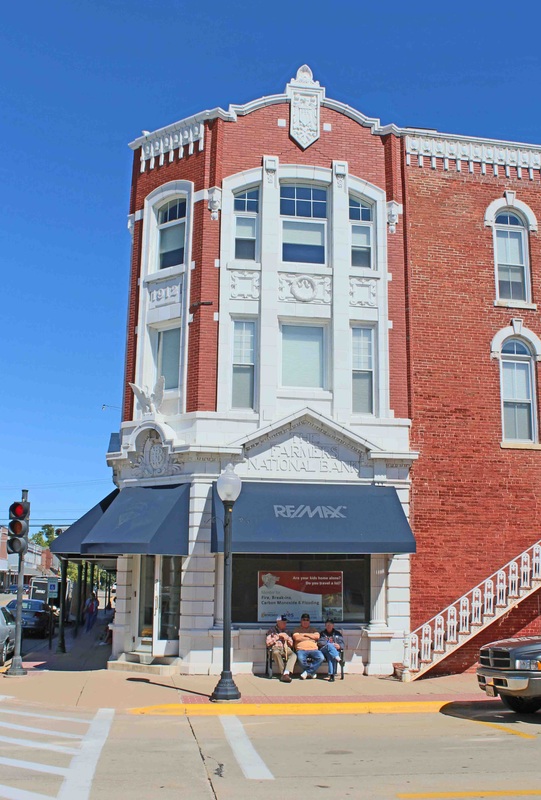 Yep, that wood bench under the awning of the hundred year old Farmers Bank building in Genesea Illinois is the perfect settin' spot on a fall morning to swap yarns as I did for a few minutes with these three old timers.