Hammond, Indiana to Lakeland (Cleveland) Ohio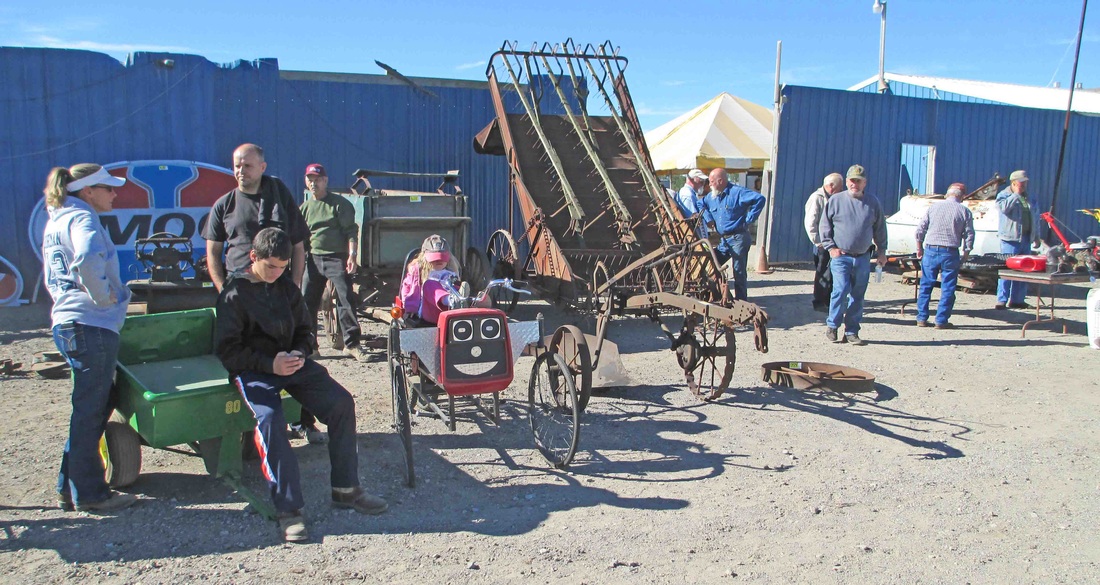 A family and some potential bidders wait patiently for the Kankakee Valley Auctioneer to come to their space and begin hawking bids for their stuff.
I got on the road early this morning to make the 330 miles to Cleveland from Hammond Indiana. I am trying to get back home ahead of schedule for this coming Wednesday without jeopardizing my sightseeing. So far so good. While the ride into the bright sun early in the morning is a "bear", Wellfleet and I have to buck up. Imagine that, 27 days solo and I'm talking about a stuffed bear as if we're a team; shades of Tom Hanks in Cast Away. Well, it was getting to be a boring ride through a seemingly endless landscape of corn fields until we came to Walkerton, Ohio where the Kankakee Valley Auction was taking place alongside Route 6. I pulled into the auction site parking lot and grabbed my camera to se what was going on. Most everything there was old used and abused farm machinery, construction equipment, tools and a smattering of trucks all set up and displayed in a flea market arrangement so everyone could look at was to be auctioned off. There were three pickup trucks set up with auctioneer's booth (like a camper) in the truck's bed and each of the trucks would move from one seller's space to another and start the bidding process. The bidders would follow the trucks and when all the stuff in the space was sold they'd move on to the next space. When I got there three auctioneers hawking bids at the same time and it was confusing as all get out. The proper dress for attending these auctions are bib-overalls and a plaid shirt; red handkerchief hanging out the back pocket is optional.
Next interesting stop was the town of Napoleon, Ohio with their imposing Henry County Court House which dominated the town's skyline from miles away.
Route 6 then becomes the Great Lakes Ohio Coastal Trail following the Lake Erie coastline up to Cleveland. My camera was not auto focusing properly so I had to now use my back -up point-and-shoot camera which I wasn't doing very well with. I ruined some great photo opportunities in Nappanee with the Amish horse and buggies. By the way you can tell you're in Amish country when you see horse droppings in the break down lane.
Right off U.S. Route 6 in Sandusky, Ohio is the entrance causeway to Cedar Point billed as the Best Amusement Park in the World and definitely the Roller Coaster Capital of the World with 16 of them to scare the snot out of you. I drove in and, because it is on a peninsular surrounded by blue sky and open water, they didn't seem all that intimidating from a distance. Maybe I'll try them some other time. I love roller coasters, but I haven't been on one in over 40 years.
Newport, R.I. may have imposing 19th century cottages on Ocean Drive, but there was no lack of multi million dollar mansions along Lake Drive on Lake Erie, miles of them. And the parks are absolutely beautiful. One that I stopped at, Lakeview Park in Lorain, had five different wedding parties there with photographers documenting their blessed events. I stopped to take a picture of the Lorain West Breakwater Lighthouse which I spotted driving past the park. I met a local couple there who offered to take a picture of me and "Wellfleet" with the Lorain lighthouse in the background using their camera and will email it to me. In the meantime I have to live with few good pictures I took.
I did make it to Lakewood which borders Cleveland some 324 miles from this morning's start.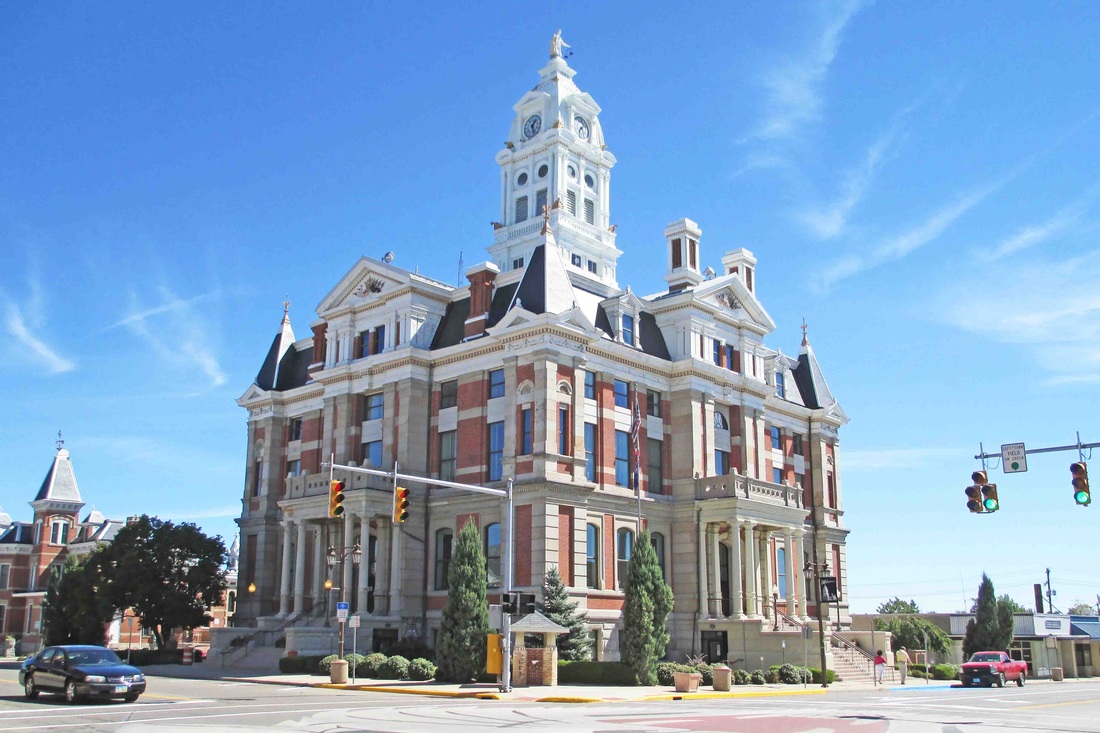 The imposing Henry County Courthouse dominates the Napoleon Ohio city skyline from quite a long distance on U.S. Route 6.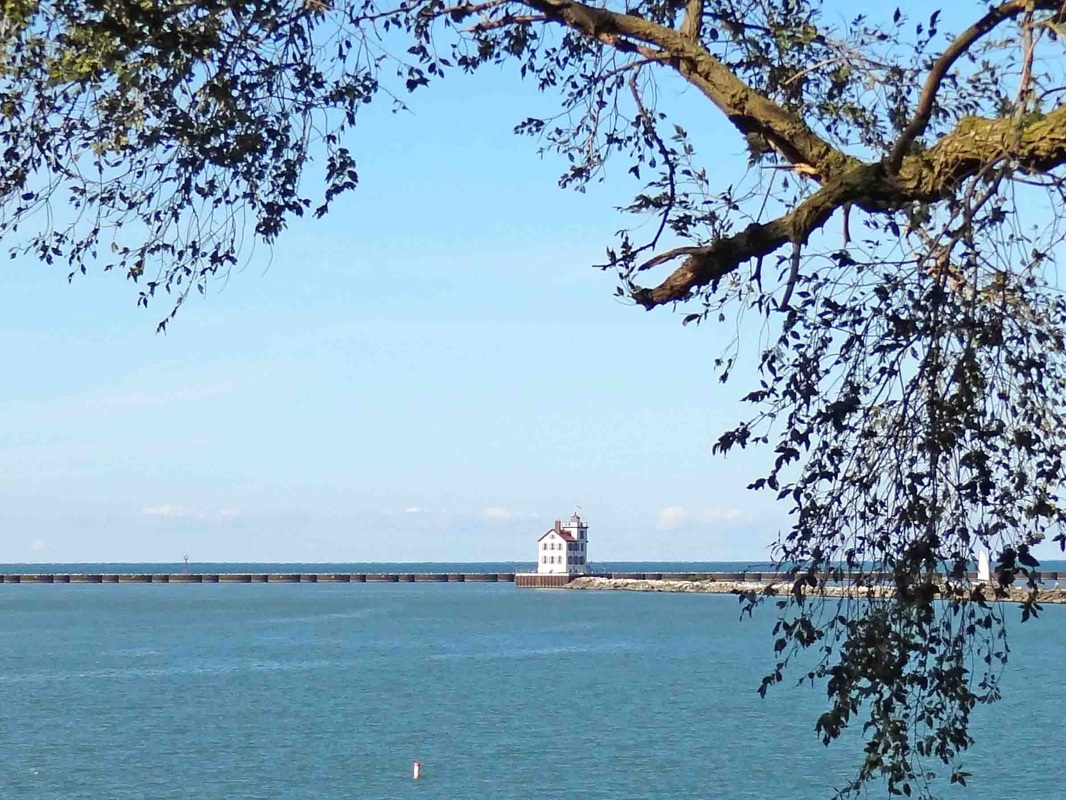 The Lorain Lighthouse was built in 1917 on the Lake Erie west breakwater and is rightly called the "Jewel of the Port" (photo by Jann Dyke who also took a photo of me and Wellfleet with the Jewel in the background.)