Ready to finish my U.S. Route 6 CRUIZE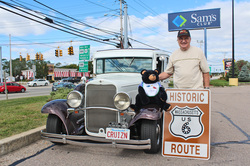 I've taken a 10 day leave of absence from completing the last leg of my coast-to-coast U.S. Route 6 CRUIZE.
Don Doucette, "Wellfleet" and I motored over to Capron Park in Attleboro on September 26 with Sun Reporter Rick Foster and Photographer Mark Stockwell to take some pictures for an article that Rick is writing about my CRUIZN across the U.S.A. adventure. It was expected to be published that weekend in plenty of time ahead of the October 5 & 6 Provincetown cruise but. other news and events means it won't appear until sometime after I officially complete this 9,000 mile CRUIZE across America.
Following the photo shoot with Rick and Mark, Don and I then motored over to the Seekonk, MA Rally Point at the Sam's Club parking lot fronting U.S. Route 6, with "Wellfleet" and "Diamond Lil", my trusty but tranny oil leaking 1931 Dodge street rod. My '31 will complete this journey just as she started it in Boston back on Sunday August 18, leaking transmission fluid not withstanding. Another 300 miles and an extra can of ATF in the tool bag should do the trick. My son Jim will be riding shotgun with me this time, while U.S. Route 6 "Masscot Wellfleet" will be chauffeured by his creators, Don and Nancy. I can hardly wait to join with the hundreds of other auto enthusiasts that will be sharing this upcoming CRUIZE weekend on the Historic Massachusetts U.S. Route 6. Rain or shine, a good time is planned at the host CRUIZE HQ Harbor Hotel on Cape Cod Bay and Route 6 in Provincetown.