2nd Annual Provincetown Weekend Cruise

This was the rear guard at the Cape Cod Visitor Center for the 200 cars that joined us cruising down Route 6 to Provincetown on Saturday. Long distance couple Roger & Eileen StAmand from Richmond Maine under the HISTORIC ROUTE 6 sign and U.S. Route 6 Tourist Assoc. Director Don Doucette & wife Nancy standing next to the StAmand's truck posed with me sitting on Diamond Lil's fender with my son Jim to my right and Rally Point host D.J. John Remedis & his wife Linda and the oldest cruiser of them all 97 year old Eddie Beaulieu to my left who never misses an opportunity to go CRUIZN, rain or shine.
The second annual U.S. Route 6 Cruise from Providence to Provincetown got off to a questionable start with the weather, but rain never stops this group of determined Route 6 cruisers. Our Seekonk Sam's Club Rally Point saw 14 cars leave on Route 6, adding another half dozen or more at the Al Mac's Diner in Fall River. We lost count at the Emma Jean's Rally Point in Fairhaven because our caravan was stopped at the Pope Island swing bridge in New Bedford for more than a half hour for boat traffic. Not a problem because most of New Bedford's fishing fleet was in harbor giving us unprecedented photo opportunities. We still were able to enjoy the awesome fresh hand dipped apple cider donuts and coffee at Emma Jean's. Sally Bean reported that about 200 cars passed through the Factory Five Rally point in Wareham before we arrived and Linda Pegnato, President of the Cape Cod Chapter of the National Railroad Historical Society at the West Barnstable R.R. Station said their parking lot was filled with cars on the cruise. Our destination savior for the Provincetown destination activities, Patti Lloyd at the Cape Cod Chamber of Commerce Visitor Center Rally Point in Centerville reported much lower number of cars passing through there this year and we later learned that there was a mix up with some cruisers thinking it was John Remedis stuck in New Bedford at the Pope Island bridge crossing, not me, so they didn't bother to stop there.
The weather turned perfect at the destination host Harbor Hotel on Historic Route 6 and Cape Cod Bay in Provincetown. D. J. Bob Bramwell was busy orchestrating music, signing cruise certificates and passing out dash plaques provided by Factory Five at his camper parked in the back lot. CRUIZE in, get your dash plaque, buy a "Cruisin' Down Route 6" tee shirt and continue down Commercial Street into the heart of the town at McMillan Pier. The purist in me continued to the end of Route 6, completing my CRUIZE from Long Beach, CA then to Herring Cove Beach to join others waiting for the sunset. Afterwards it was off to the sock hop being run at the Hot L Bar & Grill lounge a block down 6A by our cruisin' D.J. Vic Barboza and the wine and cheese tasting around fire ring at the Harbor Hotel. This was a perfect ending to my CRUIZE across the U.S.A. that began in Boston on August 17.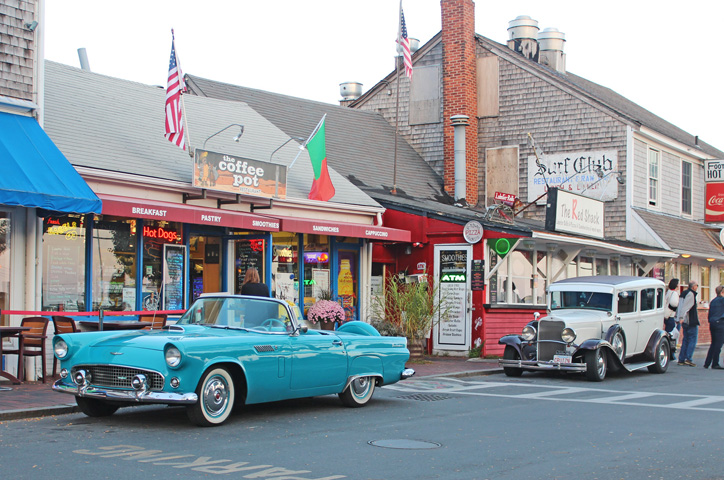 McMillan Pier in Provincetown is the central congregating area for all the tourists and parking can be a problem unless, of course, you have a great looking classic car.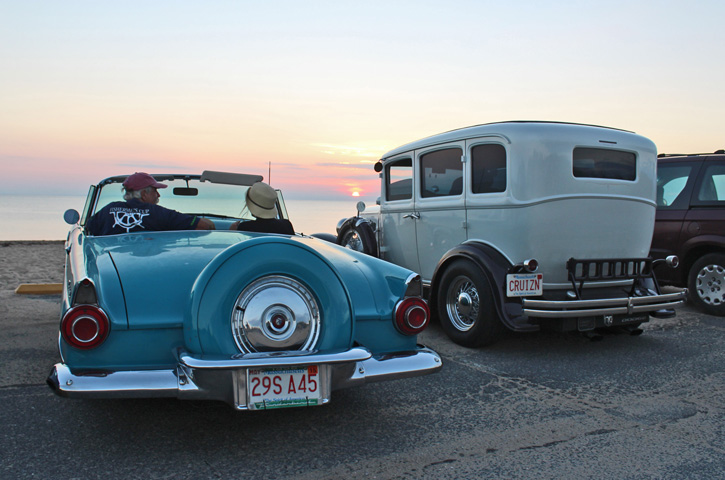 Sunset at herring Cove is another popular spot near historic U.S. Route 6. That's fellow Mass Cruisers John & Nancy Bloom in the '56 T-Bird, not Woody Allen & Diane Keaton.