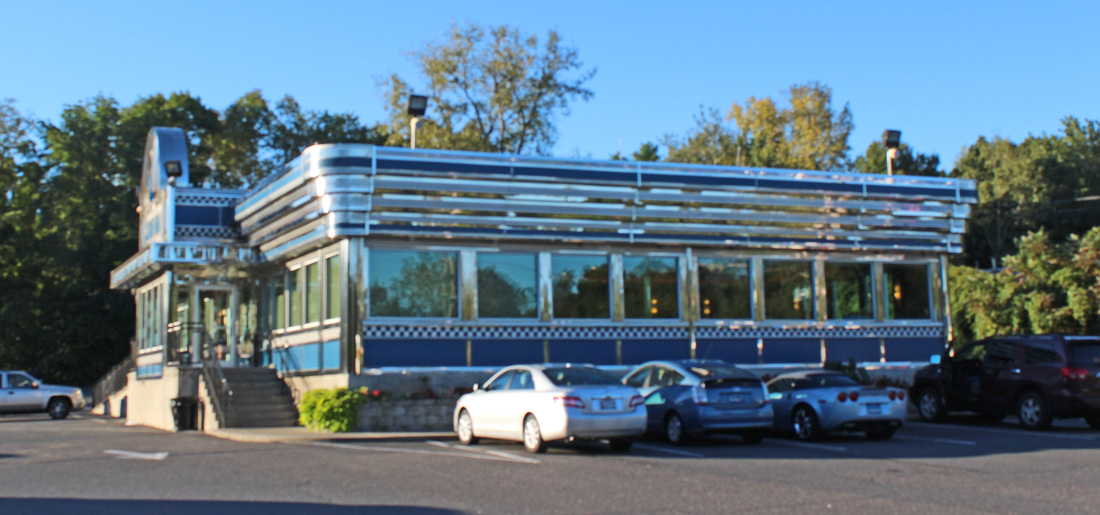 The 1972 Blue Colony Diner in Newtown, CT was my breakfast stop before attempting to CRUIZE the historic Route 6 alignment through Sandy Hook, the picturesque town where the tragic elimentary school shootings took place last year.
Bethel, CT to Providence, RI
I am a bit behind schedule posting yesterday's drive because I landing at my home in Attleboro, MA which is 9 1/2 miles from the end of my Providence, RI Historic Route 6 drive at Richmond Square where the former Red Bridge crossed the Seekonk River into East Providence. Today's U.S. Route 6 follows the I-195 interchange in Providence over the Washington Bridge a half mile south. Unpacking my truck and attending our car club meeting last night along with dinner at Tom's Tavern afterwards with members had me way behind my established road schedule habits. There will also be a 2 1/2 week gap in time before picking up the remainder of my U.S. Route 6 CRUIZE to Provincetown and mile zero on Oct. 5.
The homestretch leg from Bethel, CT had me having an early breakfast at the 1972 Stainless Steel Blue Colony Diner at the intersection where U.S. Route 6 follows a modern bypass around the picturesque, but unfortunately the tragedy struck town of Sandy Hook. Because the historic Route 6 alignment is not yet marked I got turned around leaving the town center and finally made it back on track. The road now becomes the "Antiques Trail" through Woodbury. It seems most of the beautiful 18th and 19th Century homes and barns have been transformed into antique boutiques, some 45 of them, for the one mile long drive down Main Street, interspaced with striking New England style churches and buildings. No stopping here as it could take about a week to browse through all that Wodbury has to offer.
Continuing on through the rolling hills, with some grades as much as 9%, I finally come into the Bristol area where I see evidence of New England's infamouse triple deckers and road repair crews with uniformed police details and vehicles with their emergency lights ablaze. The rest of the U.S.A. seems to get along just fine without police details at road or bridge construction sites, while New England road maintenance thrives on them. A few of the small towns like Andover (1st Congregational Church and Nathaniel Hale birthplace marker) North Windahm (Aero Diner), Brooklyn (1812 Unitarian Church & Town Hall) provided some picture great taking opportunties.
Then it was suddenly into Rhode Island at North Scituate. I also bypassed today's Route 6, preferring the old concrete washboard drive into the center on what is called the Danielson Pike where the Village Bean Cafe & Deli is located at the East Road intersection for another picture, regretting that I had eaten an early hearty breakfast.
My challenge now was to try and follow the historical U.S. Roue 6 alignment through Providence's center which has undergone tremendous reconstruction and renewal in the city's center over the past 20 years. Surprisingly there were a few U.S. Route 6A signs that got me into the city's west end onto Hartford Ave. (New England road names in earlier times reflected where the road was going to or coming from) in Olneyville then onto Dorrance St. which crosses I-95. From that point you could easily see the straight route into the heart of downtown Providence onto Exchange Place past City Hall and the former Industrial National Bank, a.k.a. Superman Building of 1952-George Reeves T.V. fame, to Waterman St. and College Hill between the historic 1775 First Baptist Church and 1764 Brown University through to the end at what is now called Richmond Square, and where the Old Red Bridge footings can still be seen today. in my own young adult driving days this was a familiar back door crossing point over the Seekonk River into Providence's coffee house and R & B club scene of the late 1950's and early 1960's.
Over and out until October 5, or until I provide links for the albums containing the other 500 - 1000 photos I have yet to archive for my own reference and anyone else who may be interested in taking a more in-depth CRUIZN tour.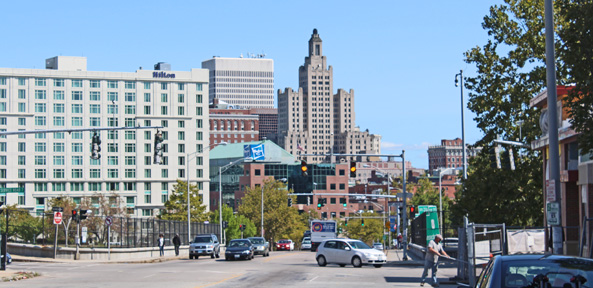 This view is from the historic U.S. Route 6 in Providence, RI crossing I-95 toward the 1950's era "Superman Building" in the center of Gotham City, home of the "Daily Planet" where Clark Kent and Lois Lane worked. The telephone booths where Clark Kent removed his street clothes are long gone, but the Industrail Trust National Bank building still stands.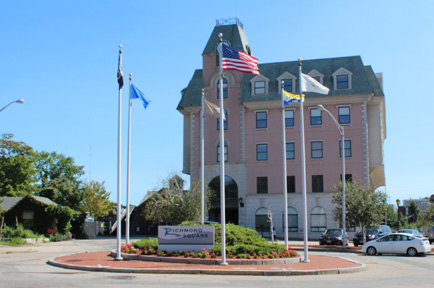 Historic U.S. Route 6 ends today in Richmond Sqaure where a five story office building was constructed upon the old Red Bridge's foundation in 1988. The former 1871 Gate House, to the immediate left and partially hidden from view, is now the Waterman Grille.