CRUIZN back home from Provincetown

It all starts with sunrise over Route 6A outside the Harbor Hotel around 6:47 am and every morning the sky and colors are different.

We were told every morning the sunrise outside our Harbor Hotel is as different and beautiful as anywhere on Cape Cod and rather than fill this page with a sequence of changing colors as the sun rises from the east over North Truro I'll just pick ones that include the Route 6A sign on the road's edge to the left. Click on the picture to enlarge it. If only the Route 6 Tourist Association could convince the Provincetown Chamber to post Historic Route 6 signs properly on the historic alignment instead of the newer highway Route 6. But I suppose that is where most all the tourist traffic travels.
During a great all-you-can- eat breakfast buffet at the Hot L Grill the rain started and everyone's plans changed. An Elvis retrospective video was playing in the Hotel lounge for those that wanted to wait out the rain showers but I wanted to chance catching some breaks in the weather to take some more pictures of picturesque scenes and historic landmark building that I saw CRUIZN Route 6A on Saturday while Jim and I make our way back home to Attleboro. Unfortunately the only break in rain we caught was the stretch of Route 6A in Yarmouthport, but that means we'll have more opportunities to do it again next October 5 & 6.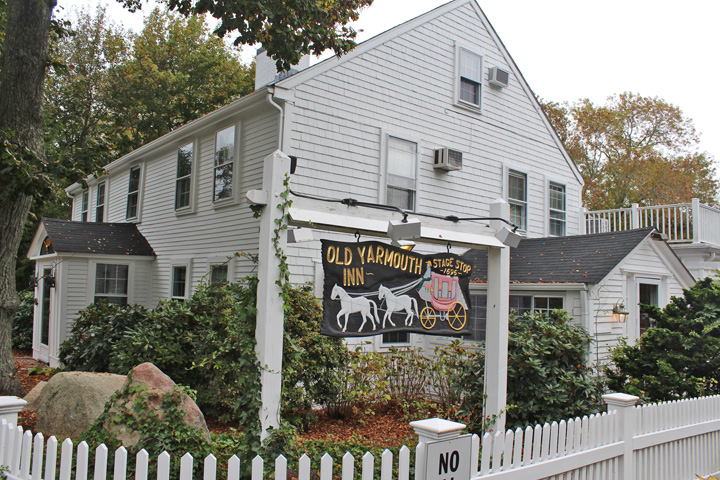 Not only does the Old Yarmouth Inn lay claim to being the oldest on the Cape, founded in 1696 as a stage stop halfway between Plymouth and Provincetown, it keeps winning Best of awards every year for fine dining, brunch, wait staff and ghosts.
Hallet's Store in Yarmouthport , built in 1889, is worth the stop just to try their famous home-made ice cream sodas by current owner and family descendent Charlie Clark. And while there buy his book "The Hallet Family of Cape Cod" which features photos reproduced from his grandfather's collection of glass-plate negatives. If you've got more time to spend ask if you can go upstairs to visit the Hallet Museum. You won't regret making this stopover.