22nd Annual 50's Night
Downtown New Bedford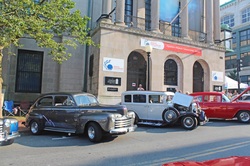 Cruise nights happen all over the United States today, a tradition that harkens back to the post WWII "Happy Days of the 1950's when Rock & Roll was being played on our AM radios. Two generations later these same former teenagers continue the tradition in a more organized fashion, still playing the same Rock & Roll music of their youth but in most cases driving the cars they wanted back then but couldn't afford. Driving around all night long from car hop to car hop was the pastime then just as it is today, only antique car owners and hot rodders alike are encouraged by host business owners unlike back in the 1950's when hot rodders, in particular, were viewed as a nuisance driving their regular customers away. Oh what a difference a generation or two can make.
And while the super highways of the interstate system make traveling long distances much easier, faster and safer, the nostalgia of driving on the old interstate U.S. Highway system seems to be a lost practice today. These old state and U.S. highways are where the cruise nights of the 21st century are located just as they were in the 20th century and this is where the most interesting sights and sounds are to be experienced.
---